Groups and Gatherings
Are you planning on staying at Tall Pines Motel? Thinking about having a family reunion, corporate gathering, special group event and/or looking to get away with extra fun?
We can help! For all our registered guests, we are happy to assist you with planning a wonderful atmosphere on our property and beyond for your event; for a true Lake George Experience.
We can help you prepare for:
BBQs to Gourmet Cookouts
Group Activities:
Boat Cruises only
Cruise with food
Horse Back Riding
Rafting
Many more activities options
Great for:
Bike Clubs
Car Clubs
Companies
Families
Friends 
Petal Bike Clubs
Reunions
When you call to reserve your room(s), please ask for details. Call: (518)668-5122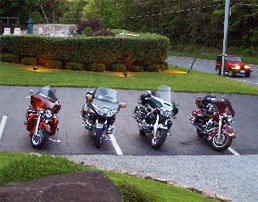 Click to View Room Slideshow